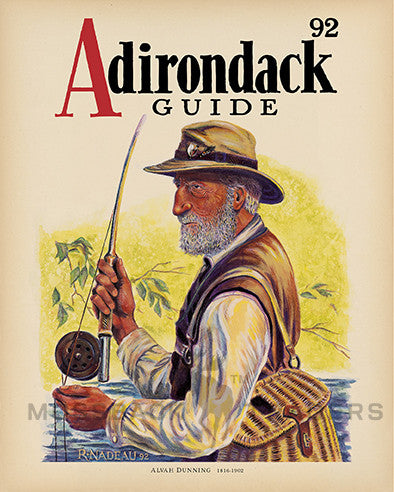 1992 Alvah Dunning Print
Richard Nadeau salutes one of the great Adirondack guides with his watercolor and acrylic rendition of Alvah Dunning (1816–1902).
     Dunning, born in Lake Pleasant, New York, began hunting and trapping at age 6. He killed his first moose at 11 and started guiding at 12. He lived at various times in Blue Mountain Lake, Raquette Lake, and Eighth Lake (Fulton Chain of Lakes). He was a rugged individualist and didn't trust the modern world.
     In an ironic twist, Dunning died in a "modern" Utica hotel after he blew out the gas jet in the lamp before bedtime and was asphyxiated while he slept.
©2014 R.P. Nadeau. All rights reserved.
8 x 10 in.

Lithographic Print

1992