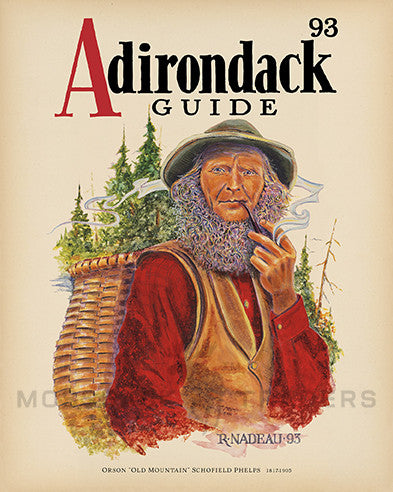 1993 Orson "Old Mountain" Phelps Print
Richard Nadeau's third cover portrait for the 1993 Central Adirondack Guide features "Old Mountain" Phelps who guided during the mid-to-late-1800s.
     Orson Schofield Phelps (1817–1905) got his nickname from his favorite pastime, climbing mountains. He's credited with blazing the first trail (1849) to the summit of Mt. Marcy (New York State) from the east, going in from Lower Ausable Lake and then passing Haystack and the head of Panther Gorge.
     "Old Mountain" Phelps was immortalized by Charles Dudley Warner who first wrote of him in the "Atlantic" magazine in May 1878 in an essay titled "The Primitive Man."
©2014 R.P. Nadeau. All rights reserved.
8 x 10 in.

Lithographic Print

1993