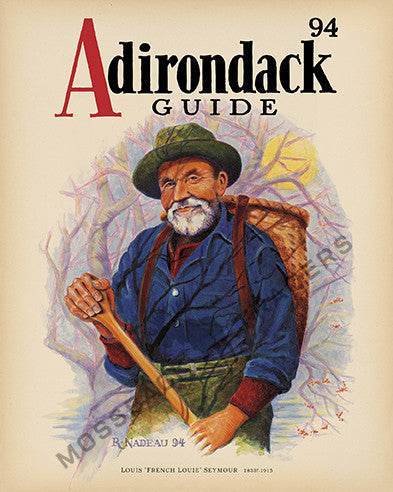 1994 Louis "French Louie" Seymour Print
Richard Nadeau's 1994 painting featured Louis ("French Louis") Seymour, named for his French Canadian heritage, and was somewhere between 75 and 85 when he died of Bright's disease at Brooks Hotel in Speculator, NY, on February 28, 1915. He didn't know how old he was, or if he did, he told different ages at different times.
     He guided in the Central Adirondacks for over 40 years and lived alone in half a dozen different camps he maintained between Speculator and the Moose River Plains, including West Canada Lakes regions.
     He often told the tale of the greatest curiosity he'd ever seen—a man who chased little birds with double-barrelled glasses that brought them up close. Louie said he could understand a man interested in partridges, they were good to eat, but little birds weren't worth anything. He said when he got lonesome he'd think of that guy and laugh.
     Seymour was immortalized in "Adirondack French Louie" by Harvey Dunham published by North Country Books. 
©2014 R.P. Nadeau. All rights reserved.
8 x 10 in.

Lithographic Print

1994