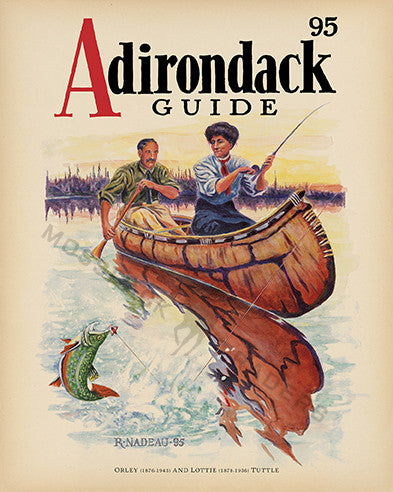 1995 Orley and Lottie Tuttle Print
Richard Nadeau's 1995 painting featuring Orley and Lottie Tuttle, was inspired by a visit with their late daughter Edith Tuttle Morcy who lived in Old Forge, New York.
     Lottie Roderick, born in Wayne, ME, in 1878, was studying elocution and art in Boston when she met Orley Tuttle who was vacationing there. Orley, born in 1876, lived on a farm in New London, NY. They met and loved bloomed. Lottie and Orley were married and moved to the farm where a daughter, Fern, was born in 1902. Edie was born in 1903. The family moved to Old Forge in 1906. They built Bay View Camp on Fourth Lake (Fulton Chain) and Orley guided fishing and hunting parties. A son, Elton, was born in 1910.
     Lottie, too, became a guide, one of the first women guides in New York State. She was a crack shot with her rifle, a taxidermist, musician, writer, and artist. Her family was French and one of the early families to settle in Maine. A family member married a Native American, which, Edie said, no doubt accounted for the love of the great outdoors which her mother inherited.
     In 1919, Orley invented the Devil Bug, a fishing lure made with deer hair, and the whole family engaged in its manufacture. Lottie hand-painted the Devil Bugs. Edie, too, made the lure before the company was sold. 
©2014 R.P. Nadeau. All rights reserved.
8 x 10 in.

Lithographic Print

1995