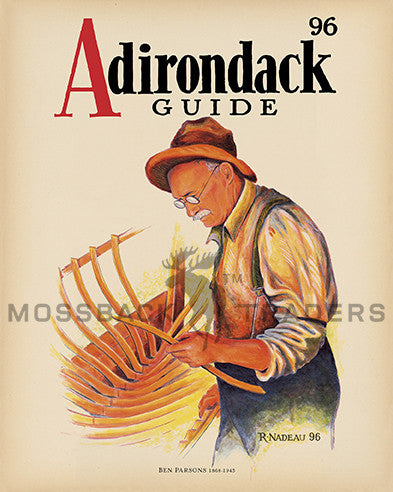 1996 Ben Parsons Print
Ben (June 23, 1868–March 11, 1945) was half of the Parson Brothers guide boat building team, working alongside his brother Ira (December 1, 1860–November 3, 1949). Both were Adirondack Guides, members of the Brown's Tract Guides' Association. Between 1890 and 1941, about 282 Parsons Guide Boats were manufactured, an average of 30 a year, selling for $600 to $800 each. The vessels were a cross between canoes and rowboats and became the staple for water travel in the Adirondacks, especially beneficial to the rugged guides who opened the wilderness to gentlemen sports. The Parsons version was noted for its lightness, strength, and durability.
     Their father Riley Parsons (May 4, 1839–September 17, 1904) moved to Old Forge in 1890 from nearby Boonville and, with partner Theodore Seiber opened the original Parsons boat shop on the third floor of the Garmon and Crosby Mill beside the damn on the Moose River outlet from Old Forge Pond. They built a new shop on the other side of the Moose River in 1892. Riley bought out Sieber in 1896, took on new partner John Roberts in 1902, and formed the Parsons & Roberts guide boat company, building a much larger shop on Eagle Bay Road near the current Water's Edge Inn on Old Forge Pond.
     At its zenith, Parsons Guide Boat Shop had 15 employees, including brothers Ben and Ira, who took over control of the company at the death of their father in 1904. The brothers continued building guide boats until 1941 when, according to Ben, "guide boats went out of favor."
     Today, Parsons boats are highly desired by collectors. 
©2014 R.P. Nadeau. All rights reserved.
8 x 10 in.

Lithographic Print

1996