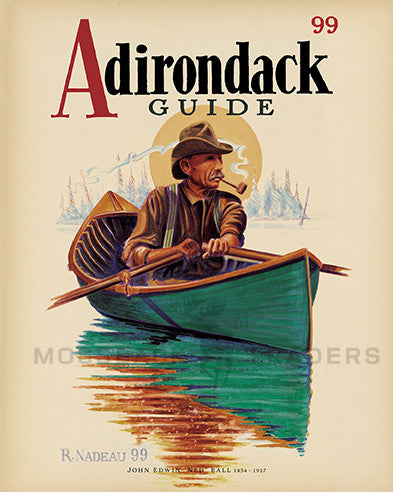 1999 John Edward "Ned" Ball Print
Richard Nadeau's 1999 painting portrays John Edwin "Ned" Ball (1854–1927) who was 20 years old when he left his native England for the rugged Northeast, landing first in Port Leyden, New York, and then settling in Old Forge. He began trapping, built a cabin, and established the Ball family homestead on the Fulton Chain of Lakes.
     In 1890 he married Flora Burke of Boonville. The union was blessed with eight children, four boys, and four girls. Mrs. Ball died in 1919.
     Ned is credited with cutting the first road to the Adirondack League Club from Old Forge. His knowledge of the territory was invaluable to mapmakers, and his service as an Adirondack Guide is legendary.
     For 16 years he served as a game protector for the State of New York and worked as a caretaker at a number of camps. He was a charter member of North Woods Lodge F&M in Old Forge and was buried in Lowville with full Masonic honors. 
©2014 R.P. Nadeau. All rights reserved.
8 x 10 in.

Lithographic Print

1999