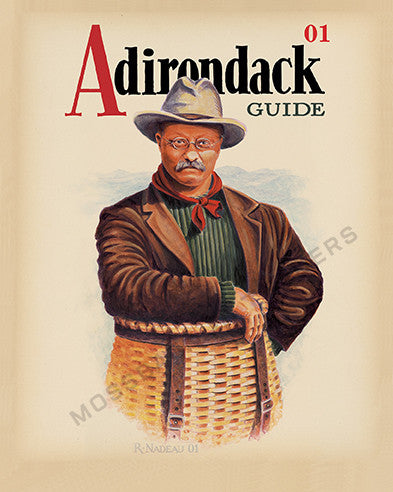 2001 Teddy Roosevelt Print
The date is September 13, 1901, and 42-year-old Vice President Theodore Roosevelt is vacationing with his family in the Adirondacks. He is aware that President William McKinley is in serious condition after being shot in Buffalo in an assassination attempt. But Roosevelt does not know that in less than 24 hours McKinley will die and a relay team of three drivers will take him by horse and wagon overnight the 35 miles from Tahawus to North Creek where a train waits to rush him to Buffalo to be sworn in as the 26th President of the United States.
     In Nadeau's painting, it is still September 13 and with Guide Noah LaCasse, Roosevelt climbed Mt. Marcy, the highest peak in the Adirondacks. Partway up the mountain, the Vice President asked to carry LaCasse's pack basket. "I never had one of those on my back in my life." He carried the basket for about three miles. Artist Richard Nadeau chose this quiet moment from 100 years ago as his original painting for the 2001 cover of the annual Central Adirondack Guide. 
©2014 R.P. Nadeau. All rights reserved.
8 x 10 in.

Lithographic Print

2001