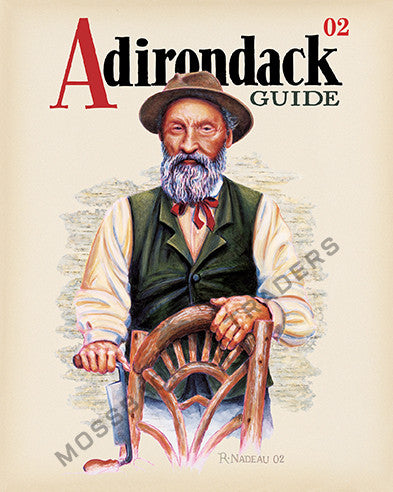 2002 Honest John Plumley Print
Richard Nadeau's twelfth painting for the cover of the Central Adirondack Guide depicts John E. Plumley (1828–1900) known as "Honest John," one of the first residents of Long Lake. He was nine years old when he came to the area and at 21 he began guiding in the Adirondacks, a career that continued until he was 70.
     According to his great-nephew John D. Plumley of Camden, NY, "Honest John" was one of the originators of Adirondack twig furniture and also a builder of Adirondack guideboats. "Honest John" gained a certain fame as the personal guide of William Murray, whose "Adventures in the Wilderness" is often credited with opening up the Adirondacks to tourism.
     Upon Plumley's death, Murray said, "They tell me that he is dead. It is a foolish fashion of speech and not true. Not until the woods are destroyed to the last tree, the mountains crumble to their bases, the lakes and streams dried up to their parched beds and the woods and wood life forgotten, will the saying become fact. For John Plumley was so much of the woods, the mountains, and the streams that he personified them. He was a type that is deathless."
©2014 R.P. Nadeau. All rights reserved.
8 x 10 in.

Lithographic Print

2002