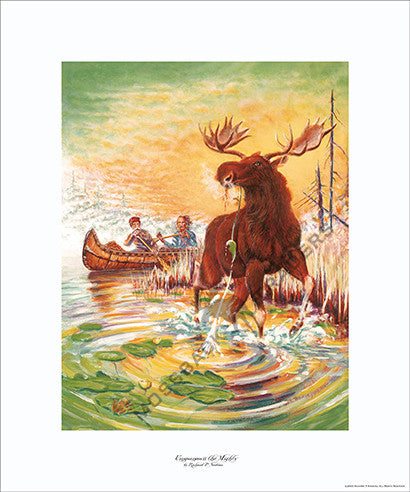 2003 Umquenawis the Mighty Print
It's hard to tell who is more surprised, man or moose. Richard Nadeau captures the moment of contact in his 13th annual painting for the Central Adirondack Guide cover. The title, "Umquenawis The Mighty," describes both man and beast in this classic sporting image that reflects back to the first Adirondack guides in the late 18th century.  Will the moose retreat into the woods or will it instinctively attack?
     Northern Indians, such as the Huron, shared their knowledge of the woods and waterways with French Canadian mountainmen. It wasn't unusual to see men traveling as brothers to a rendezvous, a trade meeting of trappers and merchants. At first light, paddling silently along the lakeshore, they come to an opening of a small bay. Startled, they see umquenawis (the moose) feeding among the lily pads. The mane on his back bristles as eyes meet. With a snort and a splash, the mighty crowned giant disappears into thendara (the edge of the forest).
     "Umquenawis" is an American Indian word for "Moose."
©2014 R.P. Nadeau. All rights reserved.
20 x 24 in.

Image size: 14 x 18 in.

Lithograph Print on Acid Free Paper

2003