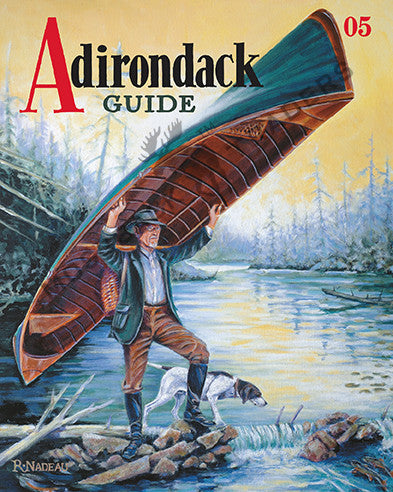 2005 Adirondack Carry Print
Richard Nadeau's fifteenth consecutive Central Adirondack Guide cover, "Adirondack Carry," honors the members of the New York State Outdoor Guides Association (NYSOGA) who continue the century-old tradition of leading "sports" into the rugged wilderness.
     Jeff Whittemore, past president of NYSOGA, posed with his restored antique Adirondack guideboat for studies used by Nadeau to create his tribute. Whittemore, a four-season guide, offers traditional guided experiences. Guides and outfitters operating in New York State can be accessed on NYSOGA's website at www.nysoga.org.
©2014 R.P. Nadeau. All rights reserved.
8 x 10 in.

Lithographic Print

2005