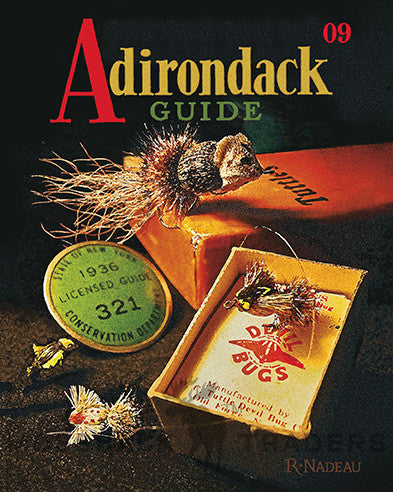 2009 Tuttle's Mouse Devil Bug Print
Richard Nadeau's twentieth consecutive Adirondack Guide cover, "Tuttle's Mouse Devil Bug," is a tribute to licensed Adirondack guide, woods-woman, naturalist and conservationist Edith (Edie) Tuttle Morcy (1903–2004), daughter of Orley Tuttle, creator of the famous deer hair Devil Bug fish lure, and his wife Lottie, the first female licensed Adirondack Guide.
     At its zenith, the O.C. Tuttle Devil Bug Co. sold 50,000 Devil Bugs in 1922. Orley turned the company over to Edie in 1935 and she continued to make fish lures until the late 1970s. Edie was honored with Life membership in the New York State Outdoor Guides Association in 1987.
     Nadeau met with Edie in the spring of 1995 to obtain references and information for that year's guide cover painting featuring her parents. At the conclusion of the meeting, Edie gifted Nadeau with her hand-made Mouse Devil Bug depicted in his 2009 guide cover.
©2014 R.P. Nadeau. All rights reserved.
8 x 10 in.

Lithographic Print

2009