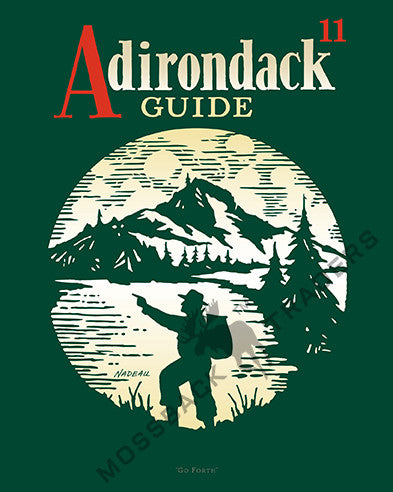 2011 Go Forth Print
Richard Nadeau's twenty-second consecutive Adirondack Guide Cover, titled "Go Forth," is a personal tribute to both past and future.
     Nadeau met Gus Kapola, his college roommate's father, on his first backwoods hunting trip, near Piseco Lake in 1973. "Ole Gus" had camp secured, a fire burning, and a hearty dinner a-workin'... much like rugged mountain guides have done for 200 years. With a full belly and the warmth of the fire, Nadeau said, "This must be the good life!" Gus quickly replied, "Yeh, this is the good life, until you get a wet ass."
     The next day, when the three "sports" rendezvoused at a beaver dam heading back to camp, Rich asked Gus to share another of his memorable Adirondack quotes. Gus turned, struck a pose, pointed to a distant mountain and said, "Go Forth, Maintain, and Preserve Forever Wild!"
     Eight years later, Nadeau entered a state-wide contest to create a logo for the New York State Outdoor Guides Association. The photograph he snapped as Gus pointed into the wilderness served as the inspiration for his drawing which was selected as the official trademark of NYSOGA in 1981.
     With 2011 marking the 30th anniversary of the guide association's rebirth, this year's cover is Nadeau's tribute to Del, his college roommate, Gus, and the NYSOGA guides who "Go Forth, Maintain, and Preserve Forever Wild."
©2014 R.P. Nadeau. All rights reserved.
8 x 10 in.

Lithographic Print

2011