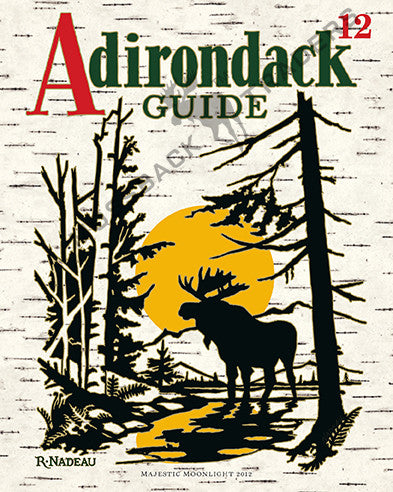 2012 Majestic Moonlight Print
Richard Nadeau's twenty-third consecutive Adirondack Guide Cover, titled "Majestic Moonlight," features a solitary bull moose in the long shadows cast by the low full moon.
     How many moose have returned to the Adirondack region where they once flourished? Estimates from the New York State Department of Environmental Conservation are quickly approaching a thousand. For almost three decades now, mysteriously, the nomadic moose began wandering again across Maine, Vermont, New Hampshire, New York and bordering Canada. One pathway to the Adirondacks is a swim across Lake Champlain from Vermont. Conservationists are now confident that moose numbers will grow at an ever increasing rate due to a healthy breeding population.
     So, as you hike or drive through the Adirondack Park six-million acre wilderness, be ever watchful in night's long shadows for a glimpse of a majestic moose.
©2014 R.P. Nadeau. All rights reserved.
8 x 10 in.

Lithographic Print

2012