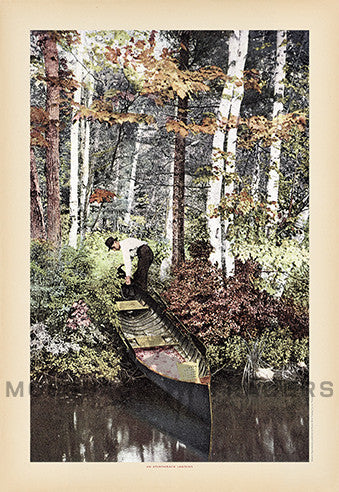 An Adirondack Landing Print
The Adirondack Guide Boat was the preferred vessel for plying waterways in the Adirondacks. The rugged, stable craft was perfect for work or leisure. Here, a "sport" lands his boat in a grove of beautiful birch trees in the fall. Was he leaf peeping, or scouting in advance of autumn's hunting season? Text: An Adirondack Landing. Available in two sizes.
©2014 R.P. Nadeau. All rights reserved.
Available in two sizes

12 3/4 in. W x 18 1/2 in. H (Image: 10 1/2 W x 16 1/4 in. H)

8 in. W x 11 1/2 in. H (Image: 6 3/8 W x 9 11/16 in. H)

Lithographic Print