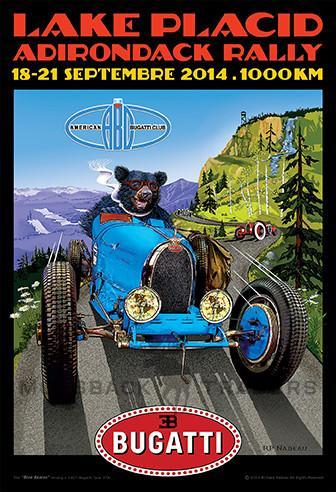 "Blue Bearon" – 2014 American Bugatti Club Adirondack Rally Poster
The American Buggatti Club's 2014 Lake Placid Adirondack Rally poster features Richard Nadeau's whimsical illustration of the "Blue Bearon" touring through the Lake Placid region in a 1927 Bugatti Type 37A, the Supercharged version of the classic car introduced in 1926. The engine generated 90 horsepower and reached a top speed of nealry 100 mph. In the background are WhiteFace Mountain and both the 70- and 90-meter Ski Jumps used in the 1980 winter Olympic Games.
©2014 R.P. Nadeau. All rights reserved.
13 x 19  in.

Lithographic Print

2014