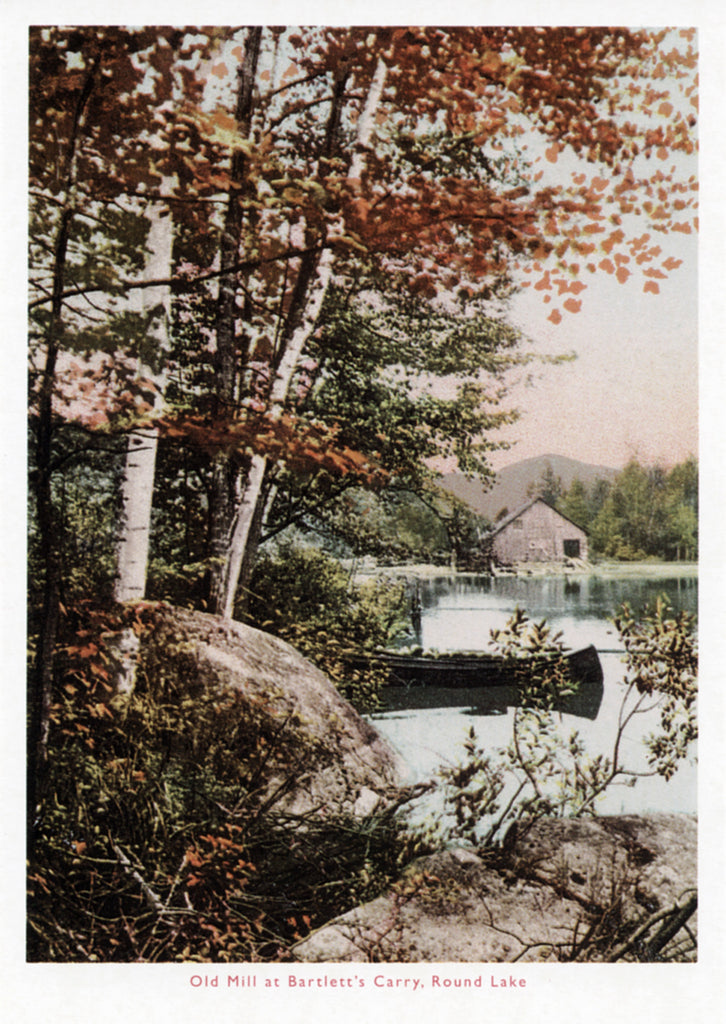 Old Mill at Bartlett's Carry Postcard
This historic postcard reads "Old Mill at Bartlett's Carry, Round Lake," a name the old timers used for Middle Saranac Lake. However, the actual waters in this image are Bartlett Bay on Upper Saranac Lake.
     Bartlett's Carry, named for Virgil C. Bartlett, is a portage that runs between Upper and Middle Saranac Lakes. The Saranac River that connects the lakes, drops thirty feet in two-tenths of a mile, making the passage a dangerous one. Bartlett bought 267 acres along the rapids and established the carry, which was greatly to his advantage since all travelers had to pass through his property... and business.
     The photograph, c. 1902,  was a cyanotype print by William Henry Jackson (1843–1942), born in Keeseville, NY, an acquaintance of Virgil Bartlett, and famous for his work in the American West, particularly in what was to become Yellowstone National Park. Text: Old Mill at Bartlett's Carry, Round Lake.
©2014 R.P. Nadeau. All rights reserved
Full Color

2 Sizes: 4 1/4 x 6 in. and 3 1/2 x 5 1/2 in.