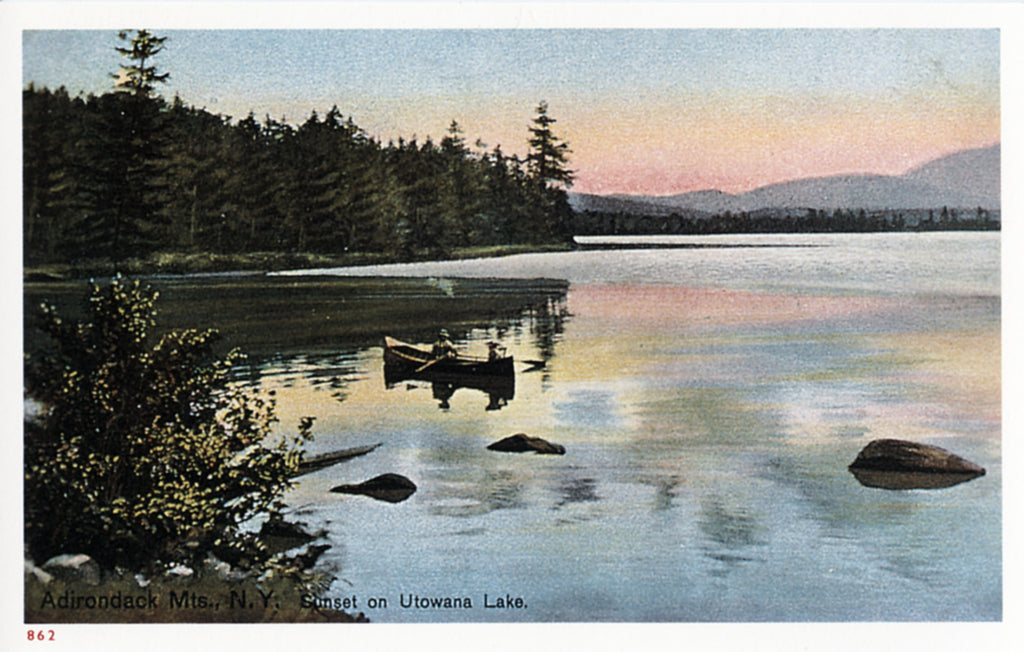 Sunset on Utowana Postcard
Northeast from Raquette Lake up the Marion River is Utowana Lake followed closely by Eagle and Blue Mountain Lakes in the Eckford Chain of Lakes.
     Eagle Nest Great Camp is on Utowana's north shore. The Great Camp was built by William G. Distin in 1937, and still encompasses all thr land around Eagle Lake and much of the acreagearound both Utowana and Blue Mountain Lakes. The Great Camp has been carefully preserved and remains today with the complex including the 15,000 sq. foot Main Lodge, Guest House, Boat House, Lakeside Lean-to, Airplane hanger, Tennis Court and 5-car garage.
     Rough water in the Marion River between Raquette and Utowana Lakes necessitated Marrion River Carry to portage around the rough stretch.
     Text: Adirondack Mts. Sunset on Utowana Lake, N.Y.
©2014 R.P. Nadeau. All rights reserved
Full Color

5 1/2 x 3 1/2 in.