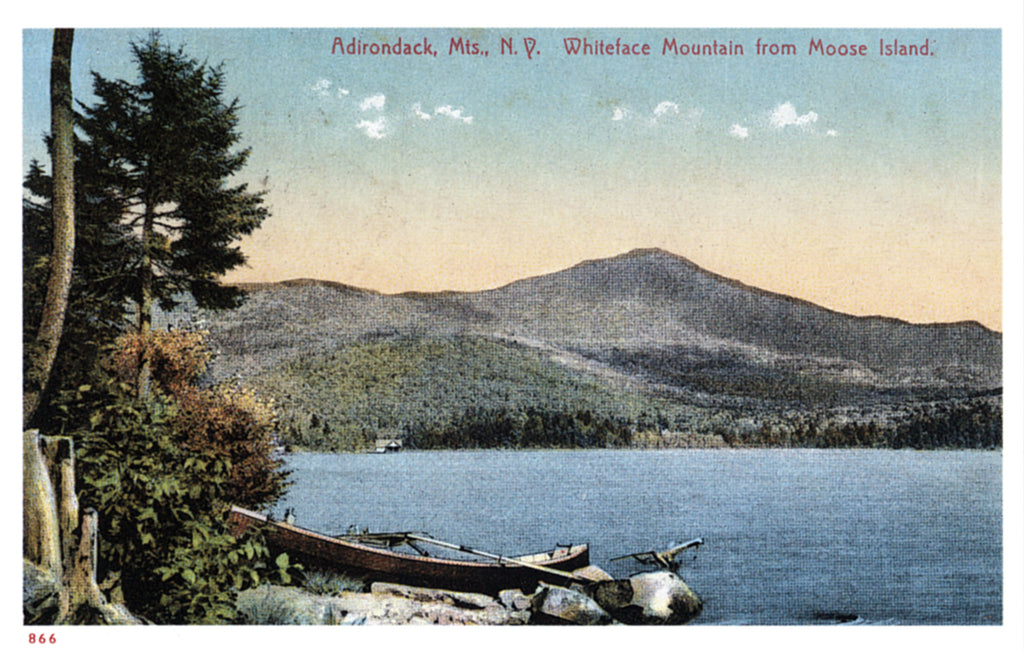 Whiteface Mountain from Moose Island Postcard
Whiteface Mountain in the Town of Wilmington is the fifth-highest mountain at 4,865 feet in the Adirondack High Peaks region, and offers a 360-degree view of the Adirondacks with views into Canada and neighboring Vermont on clear days. The nordic ski trails used in the 1932 Olymipcs ran around Whiteface Mountain (there were no Alpine events in the 1932 Olympics).
     The east face of the mountain hosted the Alpine events in the 1980 Winter Olympics. Skiers can start their descent from 4,650 feet anduse 87 different runs.
Whiteface offers the greatest continous vertical drop in the North east at 4,565 feet; more vertical drop than Aspen in Colorado; Snowbird in Utah; Killington, Stowe, Jay Peak, Mad River Glen and Stratton in Vermont; Sugarloaf in Maine; Lake Louis in Alberta, canada; and Mont Tremblant in Quebac, Canada.
     The backside of the the mountain features seasonal accessibility by motor vehicle up the Whiteface Memorial Highway to 4,600 feet, with the remaining 267 feet accessible by tunnel and elevator to Whiteface Castle on the summit.
     The highway was a $1.2 million Depression Era New Deal public works project with a ground-breaking ceremony featuring then New York State Governon Franklin D. Roosevelt.
     Text: Adirondack Mts., N.Y. Whiteface Mountain from Moose Island.
©2014 R.P. Nadeau. All rights reserved
Full Color

5 1/2 x 3 1/2 in.